The Oba of Lagos, Oba Rilwanu Akiolu, has said that all those who are accusing President Goodluck Jonathan of corruption are the fathers of corruption.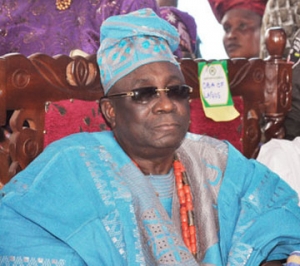 The Oba was speaking in his palace when President Goodluck Jonathan led a delegation of PDP officials to receive his blessings just before the flag-off of the presidential campaign in Lagos State.
Oba Akiolu raised issues of corruption with a mention of the Harliburton scandal and the killing of former Attorney-General, Chief Bola Ige but prayed that in the end only the best candidate would emerge in the 2015 general elections.
In his speech, President Goodluck Jonathan thanked the Oba for supporting his administration.
He described Lagos as the commercial nerve centre of Nigeria that should be of importance to any well meaning politician and which needs the right persons to govern.
President Jonathan said that his administration has much to show in the area of transportation, agriculture, road construction and wondered why anyone would say that his administration had not performed.
He also wondered why anyone would say he was not fighting corruption, claiming that statistics would soon debunk the lies being told by his critics.
He promised to do more when voted into power.
The Chairman of the party, Adamu Muazu, also assured the traditional ruler that the PDP means well for the country and that was why there has been tremendous development and progress going on in the country.
The traditional ruler said that he had prayed for the country and gave an assurance that he would continue to pray for a peaceful conduct of the elections and continuous peace beyond the election.
President Jonathan was also accompanied by the Vice President, Namadi Sambo; the Senate President, David Mark; some former and serving governors as well as the Minister of the Federal Capital.
Found this post interesting? Kindly click the share button to share